PHP Programmers - GepCom
Your Source for Custom PHP Applications
GepCom has experienced PHP programmers that can develop custom PHP applications, modify existing ones or simply fix PHP applications that are not working properly. In many cases our clients have been dissatisfied with the service of another PHP programmer and have come to us for help!
Call GepCom today at 1.866.437.2661 or fill out our inquiry form to get a quote on your PHP project!

PHP Projects
From building a shopping cart to acting as the foundation to a complex web database, PHP has many useful applications and is regarded as one of the more search engine friendly dynamic languages. GepCom has designed many custom PHP applications, PHP shopping carts and PHP databases for our customers. Below are three examples of projects that GepCom has developed PHP applications for:
gigasonic.com - e-catalog system for selling consumer electronics. This system was designed with the guidance of a search engine marketing professional. Every step of the way the site was designed to be dynamic yet extremely search engine friendly. The client can meta tag, describe, and title all the way down to the product level. The dynamic nature of the site is completely transparent to search engines and looks just like basic html pages.
thebookpc.com - e-catalog system for selling computers and peripherals. This system is capable of selling either items that require shipping or even downloadable products such as e-books or documents, music etc. Track orders, customers, add, modify delete products and more. Our e-catalog will allow you to manage your entire on-line store with a easy to use administration panel.
SwingersInTouch.com - Dating site for adult couples. Complete with its own profiles management, Image management as well built in email and chat systems.
tfir.com - A huge database of food industry companies with complete contact information.
PHP Programming
For those of you unfamiliar with PHP programming and its many applications, PHP is a script language and interpreter that is used primarily on Linux web servers. The acronym PHP, previously derived from "Personal Home Page Tools", now stands for "Hypertext Preprocessor". PHP programming is an alternative to Microsoft's Active Server Page (ASP) technology. As with ASP, the PHP script is dynamic and embedded within the page along with the static HTML. Before the web page is sent to a user, the web server calls PHP interpreter to perform the operations called for in the PHP script, which can be any number of custom PHP applications including retrieving information from a PHP database or connecting customers to a fully interactive PHP shopping cart.
Call GepCom today at 1.866.437.2661 or fill out our inquiry form to get a quote on your PHP project!

Ever wonder just how popular PHP is?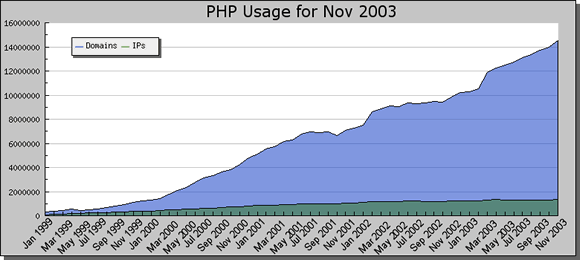 PHP: 14,528,748 Domains, 1,328,604 IP Addresses
Source: Netcraft

© 2002 GepCom.com - All Rights Reserved